From July 7th to 9th, 2021, the China Peanut Industry Development Conference and Peanut Trade Expo will be grandly opened at Qingdao International Expo Center! Welcome to Shanghai Techik Booth A8!
Peanut Trade Expo is committed to building a good exchange and trade bridge between upstream and downstream enterprises in the peanut industry. There are many exhibitors and the exhibition area exceeds 10,000 square meters, providing enterprises with a high-quality platform for sharing industry development.
Peanuts are abundant in production and widely edible. In order to supply good quality peanuts to the market, processing companies need to detect all kinds of impurities from the uneven raw materials. Among them, the detection and sorting of defective products with short buds and moldy ones are difficult and costly, which has troubled the peanut processing industry.
From July 7th to 9th, Shanghai Techik will bring the 2021 upgraded version of the intelligent zero-labor peanut sorting production line solution – the intelligent chute color sorter + a new generation of intelligent belt color sorter + intelligent x-ray inspection system – to the expo, which can efficiently sort short buds, mildew particles, disease spots, cracks, yellowing, frozen particles, broken particles, mud, stones, metals, plastic flakes, glass flakes and other defective peanuts and evil products. Shanghai Techik intelligent production line easily solves the problem of bud selection and mold removal, and helps companies achieve lean production with higher quality and greater yield.
Get a glimpse of the exhibits
Intelligent shape selection & color selection, intelligent tracking, one-key starting mode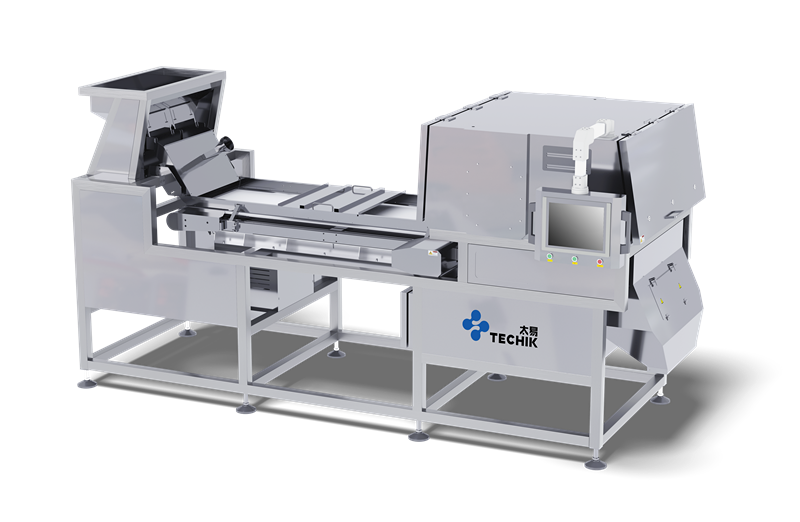 The new-design-concept machine which sorts on both shape and color can detect irregular and complex materials.The 5400-pixel high-definition full-color sensor and infrared sensor can effectively capture subtle color differences and overlapping materials.
Innovative tracking and rejecting technology and high-performance injection valves enable the equipment to achieve higher productivity, lower carry-out, and more optional products.One-key start mode, convenient operation, quick realization of efficient production.
A new generation of intelligent super-computing algorithms, with deep self-learning and irregular and complex images processing, can not only effectively identify peanut quality & color & shape problems such as short buds, mold peanuts, yellow rust peanuts, insect-eaten peanuts, disease spots, half grains, peanut stems, and damaged peanuts, but also effectively detect foreign objects of various densities such as thin plastic, thin glass, mud, stones, metal, cable ties, buttons, cigarette butts, etc.
In addition to peanut, it can also sort peanuts, almonds, walnuts and other products in terms of quality, color, shape, and foreign matter.
Intelligent X-ray Inspection System
Smart selection, integrated machine, low power consumption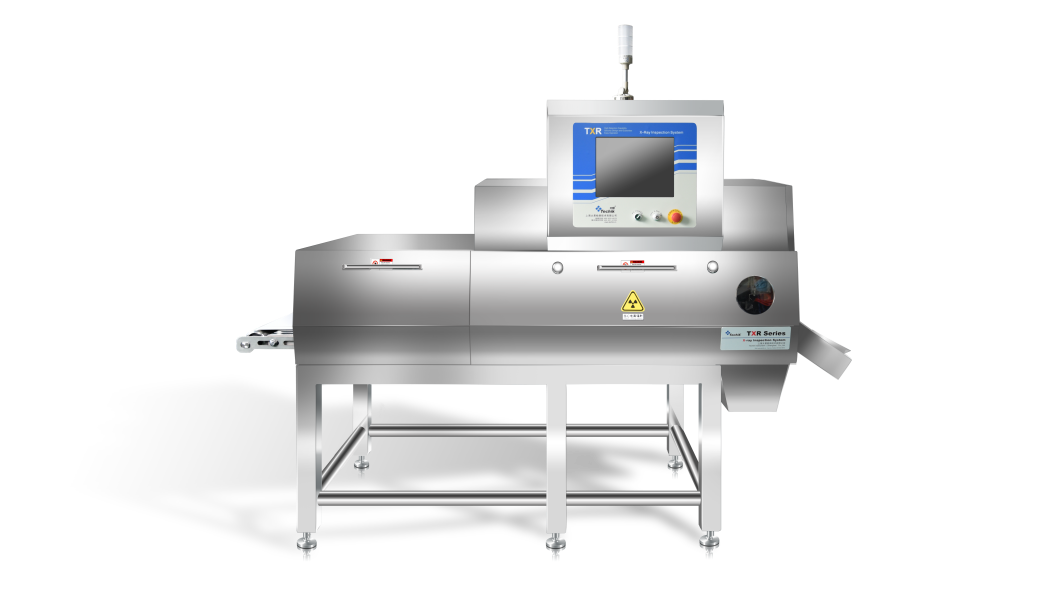 The new intelligent algorithm system can not only effectively solve the defective products such as peanuts with puree, damaged shells, peanuts embedded with steel sand, and all-level-density foreign body such as metal, glass, cable ties, mud, plastic sheets, etc. The sorting of sprouted peanuts and peanut shells also has excellent performance. The integrated appearance structure design and low power consumption design greatly expand the equipment application scenarios.
It can detect peanuts, bulk materials and other products.
Intelligent Chute Color Sorter
Sort on both color and shape, dual infrared four-cameras, independent cleaning system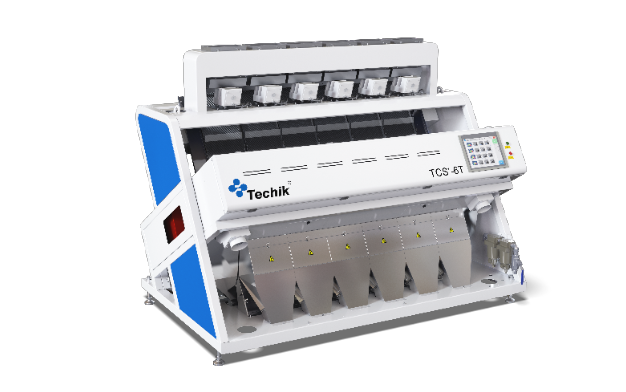 Based on the TIMA platform, Shanghai Techik builds a new generation of high-yield, high-precision, high-stability intelligent chute color sorter. The dual infrared four-camera and high-performance rejection system greatly improve the color sorting accuracy.Independent dust removal system and professional anti-crushing technology can ensure the purity of materials and effectively protect easily broken materials.It can effectively sort heterochromatic, heteromorphic, and malignant impurities, and is widely used in products such as peanuts, seed kernels, and bulk materials.